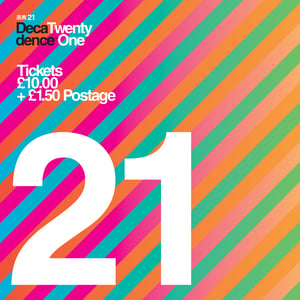 £

10.00
THIS FEBRUARY YOUR ARE INVITED TO SOMETHING JUST THAT LITTLE BIT SPECIAL.....
COME AND WITNESS AN EVENT WITH TRUE HISTORY SET IN STONE IN THE HISTORY OF DANCE MUSIC....
WE INVITE YOU TO THE DECADENCE 21ST BIRTHDAY TO WHICH WE HAVE INVITED SOME OF OUR FRIENDS WHO HAVE BEEN WITH US FROM OUR ORIGINAL ROOTS RIGHT UP TO THE LATEST ADDITIONS TO THE DECADENCE FAMILY TREE.....
★ ★ ★ ★ ★ ★ ★ ★ ★ ★ ★★ ★ ★ ★★ ★ ★ ★
THE HISTORY BEHIND THE BRAND
★ ★ ★ ★ ★ ★ ★ ★ ★ ★ ★ ★ ★ ★ ★★ ★ ★ ★
DECADENCE was born February 1992 out of frustration at the uk nightclub scene,and out of sheer boredom ,the first difference the venue had to have was a more liberal door policy that catered for high fashion and street style clothing to be worn, which was achieved with outstanding results and one of the best atmospheres the nightclub scene had ever achieved ...The experience could only be described as
SHEER EXTACY.
DJS from around the uk ,LONDON,MANCHESTER and other global cities started to ascend on Decadence's great venue choices and entertained the mass crowds with their vinyl mixes and euphoric sounds, DJ's such as ..CARL COX, ROGER SANCHEZ, TODD TERRY , NORMAN JAY, SASHA, JEREMY HEALY, PAUL OAKENFOLD, PETE TONG, BRANDON BLOCK, LAURENT GARNIER , PLUS LOADS MORE BUT TO NAME A FEW .
Within no time the Decadence nights were full to capacity and the dance floors rammed with people throwing all kinds of shapes and Decadence became a mecca for celebrity crowds to hang out with the
likes of JOHN GALLIANO, MICK HUCKNEL, BJORG, GEORGE MICHEAL, BOY GOERGE, GOLDIE, WESTLIFE, HAPPY MONDAYS, 808 STATE as well as many more along the way!
After 12 years at the residence spot of 'Bakers Nightclub', Decadence decided to cater for 1 off events to keep the panache and style of the brand and held them at exclusive venues and hotels around the world.
With this being the 21st Birthday this year and tour dates flooding in around the UK and Europe WE could think of no better place for THE Decadence BIRTHDAY party TO BE HELD than with the party goers of THE MIDLANDS IN THE HEART OF WOLVERHAMPTONS NIGHTLIFE AND THE WEEKLY HOME OF DECADENCE, THE PRINCE ALBERT!
▼▼▼▼▼▼▼▼▼▼▼▼▼▼▼▼▼▼▼▼▼▼▼▼▼▼▼▼
DECADENCE 21ST BIRTHDAY PARTY
FEBRUARY 16TH/
Purveyors of fine Dance Music.
Since 1992.
▼▼▼▼▼▼▼▼▼▼▼▼▼▼▼▼▼▼▼▼▼▼▼▼▼▼▼▼
01/Main Room. 02/ The Terrace. 03/ Upstairs. 04/VIP.
►►Danny Rampling
https://soundcloud.com/dannyrampling
►► John Kelly
http://www.dontstayin.com/uk/liverpool/nation/2007/dec/01/article-6733
►► Alistair Whitehead
http://allisterwhitehead.com/
https://soundcloud.com/allister-whitehead
►► Hannah Wants
http://www.hannahwants.com/
https://soundcloud.com/hannah_wants
►► Rhythmic Groove
►► Rob James
►► Davey Ecko
►► Nick Garrish
►► John Nais
►► Ritchie Ward
►► Dj Meza
►► Airron Williams
►► Ying n Yang
►► Chad Lewis
►► Rossco
►► Jake Abrahams
►► Dave p
►► Micky Williams
►► House doctors
►► Dan Murray
►► Nick Bryant
+ support from our full team of residents....
▼▼▼▼▼▼▼▼▼▼▼▼▼▼▼▼▼▼▼▼▼▼▼▼▼▼▼▼
LIVE DANCERS / PERFORMERS / FIRE SHOWS EVERY WEEK SUPPLIED BY THE CODE RED AGENCY
▼▼▼▼▼▼▼▼▼▼▼▼▼▼▼▼▼▼▼▼▼▼▼▼▼▼▼▼
►► DECADENCE | 21 YEARS | THE PRINCE ALBERT
Open till 3.00am
▼▼▼▼▼▼▼▼▼▼▼▼▼▼▼▼▼▼▼▼▼▼▼▼▼▼▼▼
* IMPORTANT TICKET INFORMATION *
►► TICKETS ARE PRICED AT £10.00 + BF
YOU CAN PURCHASE YOUR PRE TICKETS VIA TICKETSELLERS
https://www.theticketsellers.co.uk/tickets/decadence-21st-birthday-party-21-years-21-djs/10024971
OR FROM ANY OF OUR PR TEAM AND ALSO AVAILABLE FROM THE FOLLOWING OUTLETS:
THE PRINCE ALBERT - 01902 422980
ECKO RECORDS DUDLEY - 07871439288
NG DESIGN CANNOCK - 07985689960
FACEBOOK:
DAVE ROWLAND
DAVEY ECKO
NICK GARRISH
DECADENCE RAW
THE PRINCE ALBERT SATURDAYS
THE PRINCE ALBERT FANPAGE
ALSO OUR REISDENT DJS & DECADENCE PR REPS ALL OVER THE MIDLANDS
►► VIP PACKAGES / BIRTHDAYS / SOCIAL EVENTS BOOKINGS
For VIP Bookings
01902 422 980
07968 352 428
NICK 07985 689960
DAVE 07871 439288
The Prince Albert.
Railway Street. Wolverhampton.
Bar. Club. Eatery.
www.theprincealbertwolverhampton.co.uk
http://www.radiodecadence.com/
http://www.facebook.com/RadioDecadence
http://www.facebook.com/decadence.birmingham
http://www.youtube.com/user/RadioDecadence