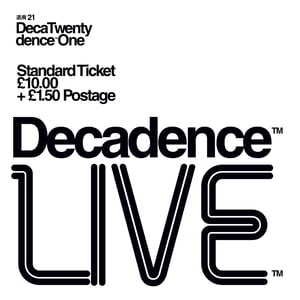 £

10.00
Decadence ''LIVE'' is a series of events aimed for those of you who wish to see something that ''little bit different & special''
HOUSE JAMMERZ have established themselves as one of the UK's must have acts for an ever increasing list of top national and international venues as well as providing unrivalled live music.
HouseJammerz a live alternative/compliment to any top DJ, taking Club/House/Dance classics to a whole new exciting level. Attention to detail, unriivalled live production and quality musicianship combine to deliver a show that never disappoints. Featuring a host of top vocalists, either individually or in combination, the HOUSE JAMMERZ experience is not to be missed.
★ ☆★ ☆★ ☆★ ☆★ ☆★ ☆★ ☆★ ☆★ ☆★ ☆
☆SPECIAL GUEST PLAYING A FULL ON CLASSIC HOUSE SET☆
★ALLISTER WHITEHEAD★
http://allisterwhitehead.com/
Allister Whitehead began his DJing career way back in 1987 spanding residencies at Gold, Hacienda & Cream, where Allister found his largest following yet. His national status was further cemented with regular spots at Ministry of Sound, Gatecrasher, and just about every club in between.
He was truly established as a household name worldwide with the Gold selling Fantazia album 'The House Collection 3' which was then, the biggest selling DJ compilation ever. Allister has since gone on to achieve 3 more Gold and 2 Silver albums with compilation for Fantazia and Ministry of Sound.
Travelling further a field than ever before, working in some of the finest clubs in the world in America, Asia, Australia and Europe. Having achieved commercial success in his production and remixing career working with people like Martha Walsh, Natalie Imbruglia and Robbie Williams, Mike Pickering of M People - Allister just adds to this amazing event line -up!
♪♩♫|SUPPORTING DJ'S ON THE BILL ARE|♪♩♫
☆RHYTHMIC GROOVE☆
https://soundcloud.com/rhythmicgroo
★NICK GARRISH★
☆DAVEY ECKO☆
https://soundcloud.com/davey-boy
☆ROB JAMES☆
★ ☆★ ☆★ ☆★ ☆★ ☆★ ☆★ ☆★ ☆★ ☆★ ☆
Limited tickets available due to size of venue
www.tcketseller.co.uk
£10.00 Standard Ticket
Special Rate For x2 People - 3 Course Set Menu - Double Room - Inc breakfast - + 2 Tickets - £100.00
Secret After-Party Till 6am - ROAR
http://www.radiodecadence.com/
http://www.facebook.com/RadioDecadence
http://www.facebook.com/decadence.birmingham
http://www.youtube.com/user/RadioDecadence
★ ☆★ ☆★ ☆★ ☆★ ☆★ ☆★ ☆★ ☆★ ☆★ ☆